Complementary and Alternative Therapies Can Bring You Relief
Complementary and Alternative Medicine is more popular than ever before. Some surveys report that almost 40 percent of adults admit to using complementary and alternative medicine to get relief from a variety of physical and emotional ailments and conditions.
Complementary and alternative medicine, has had a long and controversial history. Some swear by its health benefits, but others dismiss it completely as quackery. It comprises a group of diagnostic or therapeutic systems of healthcare that is separate from conventional medicine (also known as western medicine). Conventional medicine is distinct from Complementary and Alternative Medicine because of its evidence-based or scientific nature as opposed to a set of cultural practices that may be seen in Complementary therapies.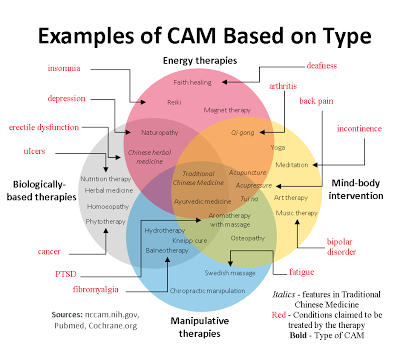 Examples of Complementary and Alternative Medical Therapies
What's considered Complementary and Alternative Medicine continues to evolve as more treatments, such as Shiatsu Massage and Biomagnetic Pair Therapy move into the mainstream.  These form of Complementary and Alternative Medicine can be classified into five major categories:
Whole medical systems
Mind-body medicine
Supplement based practices
Manipulative and body-based practices
Energy medicine
When considering Complementary and Alternative Medical therapies it's important to remember that the boundaries between one type of treatment and another are not always easily identifiable. Some forms of Complementary and Alternative Medicine use techniques and components from other – related therapies.
Whole Medical Systems
A medical system consists of more than just a single practice or remedy — such as massage — but includes many practices that stem from  a  specific philosophy, such as the presence of energetic systems in your body,  Examples of whole medical systems include:
Ancient Healing Systems – These healing systems typically have their beginnings before the rise of conventional Western. The most well known and commonly practiced include Traditional Chinese Medicine and Ayurvedic medicine from India.
Homeopathy –  This form of Complementary and Alternative Medicine uses minute doses of a substance, such as an allergen, to stimulate and produce mild symptoms of an afflictionn, such as an allergic response, in order to stimulate the body's self-healing responses.
Naturopathy –  This approach uses a variety of diverse, noninvasive treatments to help your body heal itself. These treatments include as massage, acupuncture, and herbal remedies, which are often also employed by ancient healing systems. However naturopathic medicine also encompasses more typically western forms of medicine such as exercise and lifestyle counseling.
Supplement Based Practices
This form of Complementary and Alternative Medicine encompasses all those methods in which natural dietary and herbal remedies are prescribed to provide relief from ailments. Examples include dietary supplements and herbal remedies. These treatments use ingredients found in nature. Examples of herbs include the popular ginseng, ginkgo and Echinacea.  Examples of other dietary supplements include selenium, glucosamine sulfate, and fish oil. There are many ways in which herbs and supplements can be taken, the most common being, tablets, capsules, teas, powders, syrups and oils.
Mind-Body Therapies
Mind-body practices focus on promoting and strengthening the communication between your mind and your body. Many Complementary and Alternative |medicine practitioners maintain that mind and body must be in harmony for you to stay healthy. Examples of mind-body linking techniques include meditation, prayer, and relaxation therapies.
Body-Based / Physical Alternative and Complementary Medicine Practices
These methods focus on using the human touch to massage or manipulate a specific part of your body. In the case of Shiatsu Massage Therapy, the massage is used to stimulate and open your energetic pathways. Other therapies focusing on the use of bodily manipulation include chiropractic and osteopathic manipulation and massage.
A more recent introduction to the field of Body-Based Alternative and Complementary Therapies in BioMagnetic Pair Therapy. Biomagnetic Pair Therapy is a natural therapy that addresses and treats a large number of illnesses and chronic conditions through the use of pairs of magnets of medium intensity that seek to optimize or equalize the pH level of your bodily systems.  By doing so  illness causing pathogens are neutralized.
Energy Medicine
Some Alternative and Complementary Medicine practices are based on the belief that an invisible energy force flows through your body, and when this energy flow is blocked or unbalanced your body manifests this by becoming ill. Different Alterative and Complementary Medicine practices call this energy by different names, such as chi, prana and life force. Whatever the name, the objective of these therapies is to unblock or re-balance your energetic pathways. Energy therapies include Shiatsu, Acupuncture, Qi gong, therapeutic touch, and Reiki.
Why Are Western Physicians Reluctant To Endorse Complementary and Alternative Medicine?
Many doctors practicing conventional western medicine have had minimal exposure to many forms of Complementary and Alternative practices. As a result, they are reluctant to recommend Complementary and Alternative medical treatments to their patients. Another reason why contemporary doctors may be cautious about prescribing Complementary and Alternative medicine is that, while the effectiveness of conventional medical therapies has been established through research to be effective, that is not usually the case with respect to Alternative and Complementary therapies.  While scientific evidence does exist for the effectiveness of some Alternative and Complementary therapies, for many their effectiveness has been scientifically established only to a lesser degree. In most cases the effectiveness of Complementary and Alternative Therapies has also been passed on through tradition and word of mouth through testimonials and anecdotes. In many cases, such as with respect to Shiatsu Massage Therapy, the knowledge of its effectiveness has been passed on through thousands of years of practice. After all, if Shiatsu therapy was not effective, why, after thousands of years, is it still practiced and endorsed by so many.
Why Is There So Little Research Done on Complementary and Alternative Medical Treatments?
You may wonder, why is there so little research done on the effectiveness of Complementary and Alternative Medical treatments. One reason for the lack of research in alternative treatments is that large, controlled medical studies are costly. Trials for conventional western medical therapies are typically funded by the big pharmaceutical companies that develop and sell drugs. Fewer resources are available to support trials of Complementary and Alternative Medical therapies. It does not mean that these therapies are not effective. It means that there is no way for pharmaceutical companies to profit from their study and dissemination.
Talk To Your Doctor About Risks and Benefits of Any Therapy You're Considering
If you decide that you would like to try out a form of Complementary or Alternative medicine, you might want to check with your conventional medical doctor, particularly if you are pregnant or if you take prescription medicine. He or she may help you understand any possible risks and benefits before you try a treatment. Do not stop or change your conventional medical  treatment — such as the dose of your prescription medications, and keep your doctor updated on any alternative therapies you're using, including any herbal and dietary supplements you may be taking.
At Shiatsu Toronto we are happy to answer all your questions. If you are considering a treatment or have questions about whether Shiatsu Massage Therapy, Biomagnetic pair Therapy or Medical Qigong can help your physical ailment or medical condition, call Carlos at 416-788-3187 or email us using the email form below.
Ask Us Anything
Contact us at 416-788-3187 to ask a question or book an appointment.
If you're a new client, ask about our introductory offer.
If You Have A Question Send Us an Email