Can BioMagnetic Pair Therapy Help You?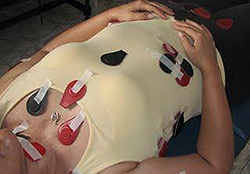 You may have read about Biomagnetic Pair Therapy, also referred to as Biomagnetism, and you may have wondered whether this form of therapy can help you with your ailments, complaints or chronic conditions. Because BioMagnetic Pair Therapy is such a non-invasive treatment – no needles like in Acupuncture; no pills to take; no smelly herbs – Biomagnetism will never hurt or harm you – so there is no risk.
Try BioMagnetic Pair Therapy
If you choose to try Biomagnetic Pair Therapy, your therapist will assess or test your body to evaluate the presence of any pathogens, such as viruses, bacteria and parasites, and will then apply magnets of different polarities to specific points on your body, as illustrated in this picture of a typical treatment. You don't need to disrobe and the treatment is both completely painless and extremely effective.
If you're wondering how much relief BioMagnetic Pair  Therapy can give you for what ails you…Take This Short Quiz and Find Out
Are You Considering BioMagnetic Pair Therapy?
If you're considering BioMagnetic Pair Therapy, but are uncertain whether BioMagnetic Pair Therapy can help you with your physical or emotional ailments, this quick quiz will help you decide whether BioMagnetic Pair Therapy is the right choice for you.
Find Out How We Can Help You
At Shiatsu Toronto we are happy to answer all your questions. If you are considering a treatment or have questions about whether Shiatsu Massage Therapy, Biomagnetic pair Therapy or Medical Qigong can help your physical ailment or medical condition, call Carlos at 416-788-3187 or email us using the email form below.
If you're a new client, ask about our introductory offer.
If You Have A Question Send Us an Email
At Shiatsu Toronto we provide customized Complementary and Alternative Medical treatments, specifically, Shiatsu Massage Therapy, BioMagnetic Pair Therapy and Medical Qi Gong to clients in the Greater Toronto Area (GTA), including:  Ajax,  Aurora, Beaches, Brampton, Burlington, Caledon, Concord, East York, Etobicoke, Halton, Hamilton, Leaside, Marhkam, Milton, Mississauga, Newmarket, North York, Oakville, Orangeville, Oshawa, Pickering, Richmond Hill, Scarborough, Thornhill, Toronto, Vaughan, Whitby and York