Shiatsu Self Massage for Knee Pain and Flexibility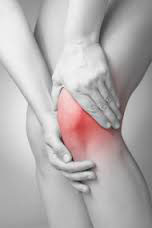 The first signs of aging appear in legs and knees. Difficulties with and pain in your legs and knees have a direct effect on your gait, so it is important to keep both as flexible and pain free as possible. You can do the following simple shiatsu massage exercises which will help to keep your knees and legs pain free and flexible.
1. Sit on a comfortable chair. Place your palms on the upper parts of your legs and massage with a downward stroke toward your knees. Repeat 10 times.
2.  Place your palms on your knees and massage in circular motion 20 times clockwise and 20 times counterclockwise.
3.  Place your thumbs on the outer side of your legs, above your knees, and press firmly holding for 5 seconds, repeat 10 times. Next, move your thumbs closer to the center line  of your legs, still above the knee, and repeat the above sequence. Then move your thumbs to the medial, or inner,  side of each knee and repeat the same procedure.
4.  Place your palms above your knees you index and middle fingers below the knee cap. Press on the area below your knee cap 10 times.
5.  Keep your palms resting above you knee cap, with your index and middle fingers press and massage the area around your knee cap, that is, on the joint on the outer side of the knee, in a circular motion.
6.  This exercise has to be done one knee at a time. Using both hands holding your right knee from the sides. Place both your middle fingers at the back of the knee and massage in an upward direction 20 times. Repeat the same sequence on your left knee.
7.  With loose fists gently tap all around both knees.
When done regularly, these exercises will help alleviate knee pain and maintain good knee flexibility. If you're looking for help with a chronic knee condition or a long term solution, make an appointment for Shiatsu treatment with Carlos Praniauskas.
Find Out How We Can Help You
Contact us at 416-788-3187 to ask a question or book an appointment.
If you're a new client, ask about our introductory offer.
If You Have A Question Send Us an Email